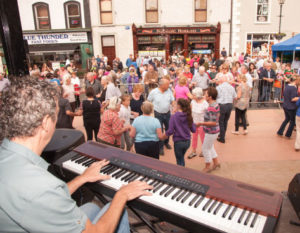 Síamsa Sráide Street & Arts Festival Swinford was inaugurated in 1984 to celebrate International Youth Year.  Initially it was a one-day festival but was enlarged to five day event after four years. 
The festival is always held over the August (Irish) Bank Holiday and finishes on the traditional Old Harvest Fair Day i.e. the first Wednesday of August. Síamsa Sráide was the original street festival in the West of Ireland.  It has developed into a movement, not just a festival. Síamsa Sráide translates to 'fun on the streets' and that is exactly what this festival successfully achieves each year. The activities throughout the festival promote history, heritage, arts and crafts, music, youth, gaeilge, sport, tourism and enterprise. It continuously raises the profile of this vibrant East Mayo town. Its success down through the years has been recognised by numerous awarding bodies including National Pride of Place, First Active Bank Award for Tourism, Most Renowned Traditional Irish Culture Festival in East Mayo by Mayo County Council, Awards of Excellence by Mayo 5000 and Mayo Naturally, Mayo Diaspora Award and Mayo Association of Dublin Meitheal Award.
This historic and extraordinary festival will celebrate 35 years of success in 2019 and promises to be bigger and better than ever.